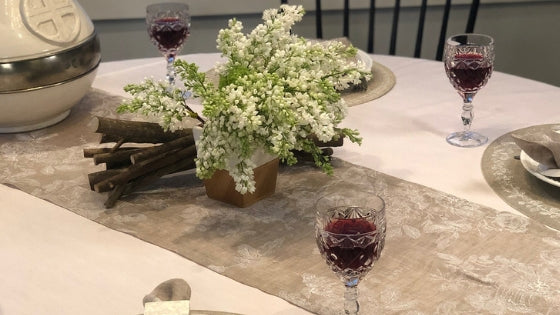 Table Runner VS Table Cloth
There can be so many formalities when it comes to setting your table for that special occasion. What side does the fork go on? How are you supposed to fold the napkins? Is it ok to use a runner instead of a table cloth? While there are some guidelines you should follow, having to choose between a runner or table cloth is not one of them. There is no right or wrong time to use either. It is more of 
a personal preference over anything else. 
Shown Above: Bamboo Runner in Gold, Meadow Runner and French Garden Runner in Black.
You can use table runners for both formal and informal settings. Runners add color and texture to your table setting and can even provide a feeling of tradition and elegance. They can be a great way to dress up your table and allow you to play with those prints you always find yourself attracted to, but too scared to commit to. 
Shown Above: French Garden Table Cloth in Navy, Villa Table Cloth in White and Wisteria Table Cloth
A table cloth can be used for so many different reasons. A long table cloth can instantly improve the look of a not so great table. A short one can cover your tabletop, but still show off those great legs...the table legs that is! If you have one with a fantastic print or pattern, it can add the right amount of pizzazz, allowing you to use more subdued dishes and table decor. At the end of the day, w
ho doesn't love a great table cloth and fabulous tablescape?!
All in all, we are here to tell you that there is not a right or wrong time to use a table cloth vs a table runner. It is something that you can decide based on your style, the look you are going for and what you are trying to accomplish.