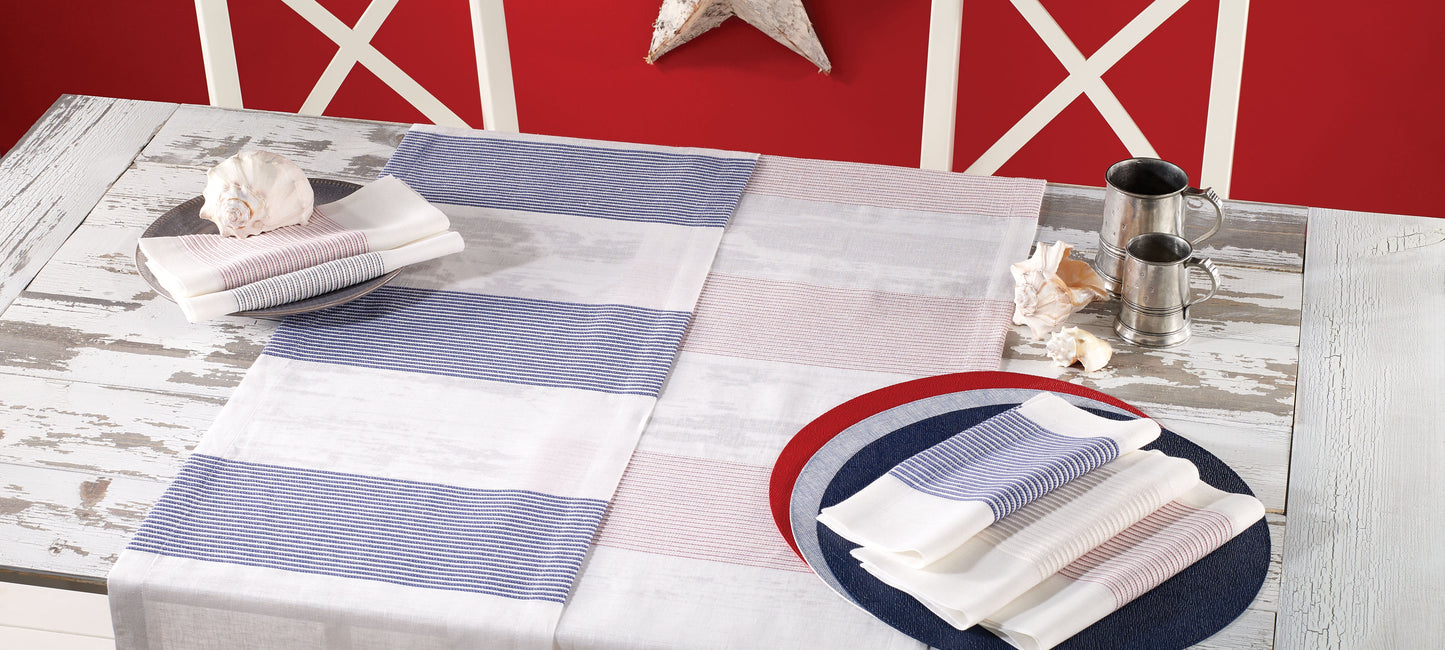 Red, White, and Blue Leftovers
Now that the summer season is over, say goodbye to the BBQ's, the weekend lake adventures, and the warm evening soirées. As Summer fades into Fall and the days get longer, we wonder what to do with our red, white and blue decor. It's a classic color combination, so just because these colors are synonymous with the Summer holidays doesn't mean you can't use them year-round. 
(Shown Above: Corte Collection)
Red is a bold color no matter what you pair with it. Whether it is with a more neutral setting or one that is a little more modern - paired with a black/white combo, it will always make a statement on your table. It is a color that brings a certain energy into a space. Give it the love that it deserves (and that's not just because it's the international color of Love)! 
(Shown Above: Metallic Thread Napkins & Metallic Bands Runners)
White linens, we all know, will take you from month to month, no matter what season it is. We personally LOVE winter whites and the classically sophisticated feel they add to your table in the colder months. With Fall approaching, we love to pair our white linens with more natural elements. Wood napkin rings and other natural wood accessories will give your tablescapes the perfect balance.
TIP: Take it to the next level and add some metallics to this neutral setting and watch your tablescape transform before your eyes! 
(Shown Above: Tuxedo Collection, Helix Easy Care Mats, Riviera Napkins, & Chambray Napkins)
Not ALL blues will survive the cold weather, but Navy is one of them. Change the look and pair your navy decor with more neutral, earthy tones during this time of year. Taupes and beiges are subtle and clean. Greys and Charcoal can create a more bold and masculine feel for your table during the Fall and Winter. There are plenty of ways to incorporate it into the unique style of your home and make it your own! 
Comment below and tell us the favorite color combos that you use with your leftover red, whites, and blues!